Top 5 Family Friendly Hikes in Yosemite
Don't let the cascading mountains and challenging trails of Half Dome discourage you from taking a family trip to Yosemite. There are plenty of family friendly hikes in Yosemite for everyone to enjoy, including the grown-ups!
Lower Yosemite Falls
Lower Yosemite Falls is an incredible sight to see. Known as America's tallest waterfall, this trail leads you to the final 320-foot (98-meter) drop, where the breathtaking view of water cascading down the mountainside captivates the senses. This 30-minute hike is fully paved and suitable for both strollers and wheelchairs. However, due to the powerful rush of the waterfall, consider bringing infant noise-canceling headphones to protect your little ones' ears.
Distance: 1 mile
Begin at: Lower Yosemite Fall Trailhead
Getting here: Take the YARTS Bus from one of our properties to the Yosemite Valley Visitor Center. Transfer to the free Yosemite Shuttle and ride to stop #6, or drive into the park and park at the Yosemite Village or Yosemite Falls parking areas. Note: There is no trailhead parking.
Valley Loop Trail/Mirror Lake
Embarking on the Valley Loop Trail to Mirror Lake, you'll find the destination is just as enchanting as the journey. This trail, a blend of paved and dirt paths, offers moderate difficulty, perfect for engaging older children in your group. While not the best choice for most strollers due to its partial dirt path, the terrain is mostly flat, easing the journey for older kids. For the littlest explorers, baby carriers are an excellent option. The trail winds towards a shimmering lake, a lively hub for ducks, birds, and assorted wildlife. The walk to the lake is approximately an hour, with a full circumnavigation taking 2-3 hours. Remember to bring along snacks and water to keep your energy up during this picturesque adventure!
Distance: To the lake is 2 miles; around the lake is 4 miles
Begin at: Mirror Lake Trailhead
Getting here: Take the YARTS Bus from one of our properties to the Yosemite Valley Visitor Center.  Transfer to the free Yosemite Shuttle and Curry Village.
Vernal Falls Footbridge
Witness the power of Vernal Falls, one of the most impressive waterfalls in Yosemite Valley, from the footbridge. This trail, albeit very popular and often busy, offers an awe-inspiring view of nature. As we all know, kids are typically early risers, so starting the hike early can help beat the crowd. The path does have a steep incline and may prove difficult for children under 4 unless they are carried.
Pro Tip: Take it slow and immerse yourself in the scenery – this is one of the most beautiful family friendly hikes in Yosemite!
Distance: 1.6 miles
Begin at: Happy Isles Trailhead
Getting here: Ride the Valleywide or East Valley Shuttles to shuttle stop #16 and follow the signs across the bridge to the trailhead or park at Curry Village.
Glacier Point Trail
Skipping the views at Glacier Point is like missing out on the essence of Yosemite. This short and easy trail, with a paved, stroller-friendly path, is perfect for the entire family. Once you reach the viewpoint, be ready for the breathtaking panorama of Upper and Lower Yosemite Falls, Yosemite Valley, Clouds Rest, Half Dome, as well as Vernal and Nevada Falls.
Distance: 0.6 miles
Begin at: Glacier Point Parking Lot
Getting here: Follow Glacier Road until it ends after 16 miles.
Mariposa Grove
For those in pursuit of unparalleled beauty and relaxed trails, a visit to Mariposa Grove is a must. With more than 500 towering sequoias—many of which are between 1,000 and 2,000 years old—the trails in this part of Yosemite captivate both kids and adults alike. Conveniently, a complimentary shuttle operates from the Mariposa Grove Welcome Plaza, located near the South Entrance, to the Mariposa Grove. Alternatively, you can use the welcome plaza's parking, which offers approximately 300 spaces.
This location provides a variety of trail options suitable for various age groups.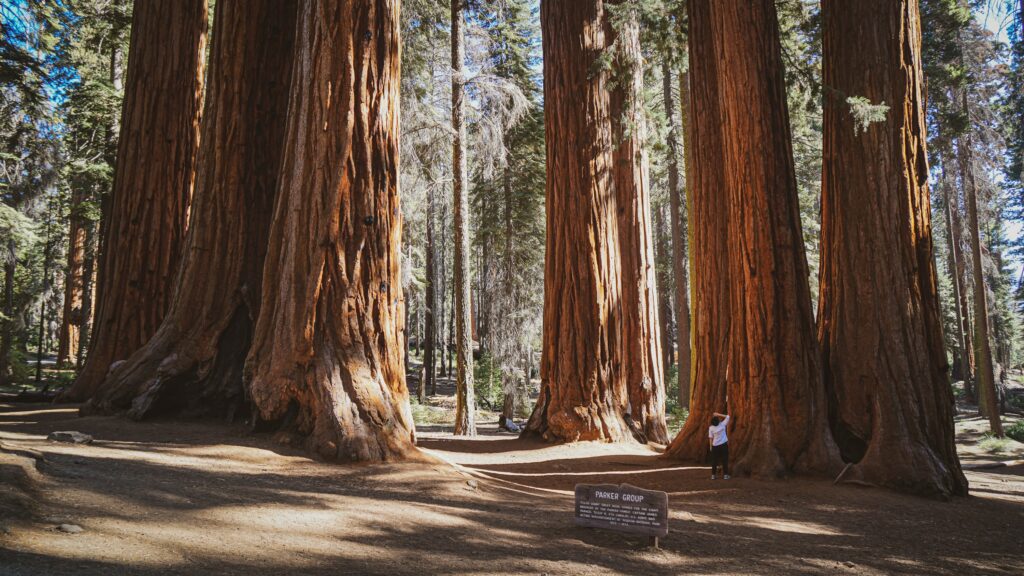 Big Trees Loop Trail
This trail is stroller and wheelchair accessible, making it an easy and enjoyable choice for all.
Distance: 0.3 mile
Difficulty: Easy
Getting there: Begin at Mariposa Grove Arrival Area.
Grizzly Giant Loop Trail
Though not fully accessible for strollers or wheelchairs, this trail offers an unforgettable encounter with nature.
Distance: 2 miles
Difficulty: Moderate
Getting there: Start on the Mariposa Grove Trail at the Big Trees Loop and walk past the 3,000-year-old Grizzly Giant and California Tunnel Trees. Those with a valid disabled placard can drive to the Grizzly Giant parking area and enjoy this section of the grove via a trail that is wheelchair accessible.
Whether you have pre-teens, toddlers, or a mixture of both – exploration of our beautiful land should never be out of the question. From easy half-mile trails to ones that put those little legs to work finding family friendly hikes in Yosemite is a memorable experience for all. 
If your family is looking for the perfect place to stay on your trip to Yosemite National Park, our property Yosemite Cedar Lodge is the ideal spot. Located just minutes from the park's entrance, Cedar Lodge is a family friendly hotel that has multiple pools and spas, a game room and large suites to create memories in nature.