You've decided to make Yosemite your next backpacking destination, but what do you need to pack? If you're going with a group, be sure to check with your leader as they might provide many of the items you'll need. However, if you're more of a solo adventurer, this information on Yosemite backpacking essentials is for you. 
To start things off, we need to cover the basics of what every backpacker needs, also known as the Ten Essential Systems. These systems include navigation (both a map & GPS device preferred), effective sun protection, insulation, luminance, first-aid supplies, a firestarter (view fire regulations), a repair kit with tools, food, hydration, and shelter.
What's Required to Backpack in Yosemite? 
According to the National Parks Service (NPS), Yosemite is nearly 95% designated wilderness. In order to protect these wild places and provide an outstanding hiking experience, wilderness permits are required for all overnight trips. Learn more about this on the NPS website. 
Where Should I Go? 
With so much land to explore, it can be difficult to decide where to start your backpacking trip. Take a look at the NPS list of backpacking trails to get started and make a note of what trailheads require permits. And of course, do not forget to take a look at the current trail conditions before you head out.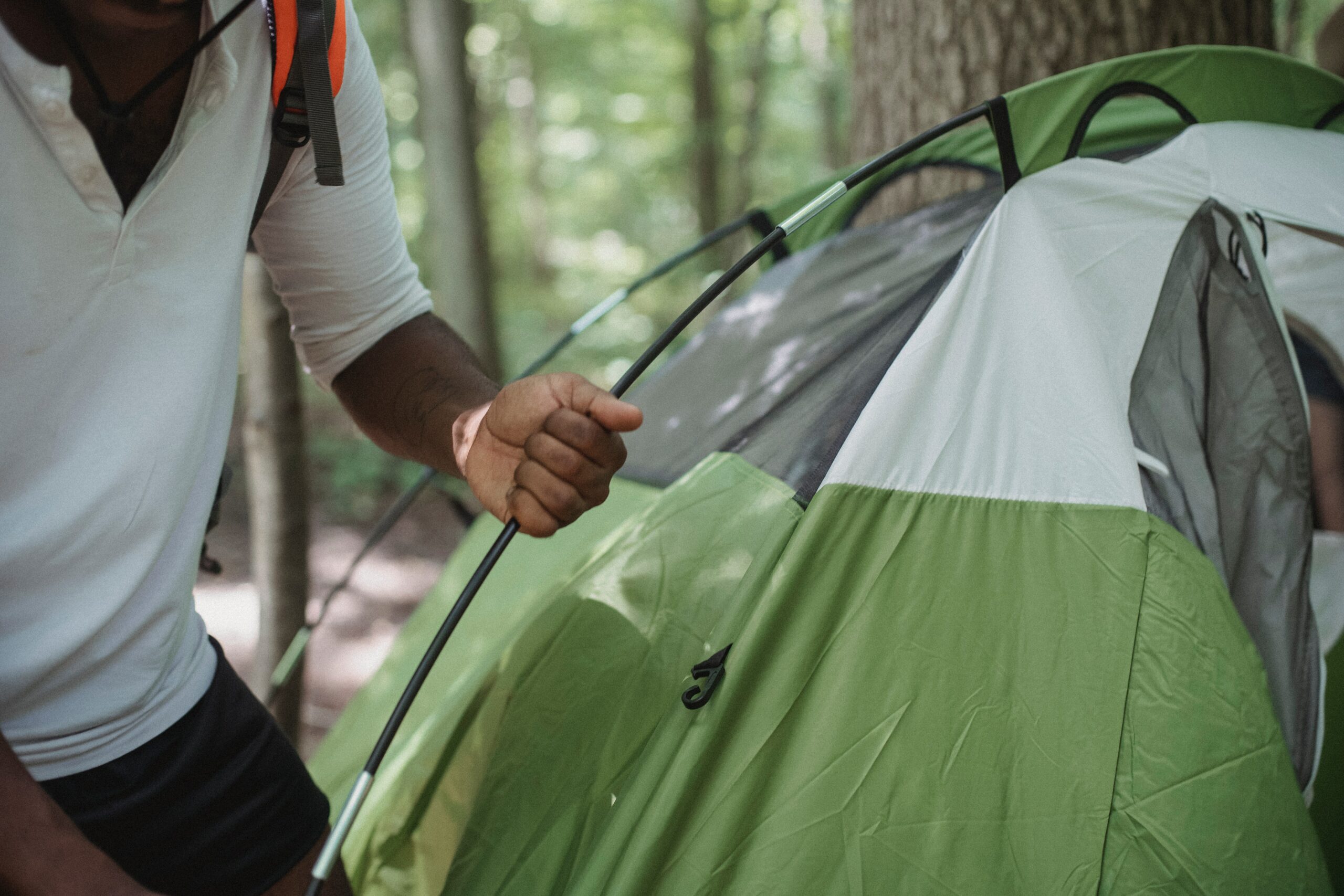 What Equipment Should I Bring?
Below is a general idea of what you will need to pack. Companies such as REI hold classes for new backpackers to learn what they need and how to fit it into their pack as well. 
Comfortable large backpack (60-90L)

Day pack (15-35L)

30 – 50 feet of nylon cord

Backpacking tent (1-3 person max)

Sleeping bag (check rating and decide which model based on time of year and temperature)

Whistle 

Multifunctional watch 

Multitool/Knife

GPS

Map

Compass

Poles (optional, but nice to have)

Headlamp with new batteries, plus some extra

Water filtering device 

Matches/lighter

Cookset (stove, fuel, plate, utensils, cup)

Firestarter

Bear canister 

TIP: You can rent one inside the park at the

ranger station

for a low fee and easy return.
What Should I Wear?
This list is dependent on the time of year you've planned your backpacking trip. However, here is a general checklist of what you will need, then tailor these Yosemite backpacking essentials for the temperature.
Quick dry clothing (underwear, sports bra, shorts, pants and/or shorts, long underwear, long sleeve top, and tank top)

Insulated, small fold jacket

Waterproof pants and jacket 

Sun protectant hat 

Winter hat (if necessary)

Gloves (if necessary)

Hiking boots

Wool socks (multiple pairs)

Water shoes/sandals 
Which Personal Items Should I Bring?
You know yourself best, but below is a general list of must-haves that you can tailor accordingly.
Sunglasses

Water Bottle

Sunscreen

Lip Balm

Biodegradable toothpaste  

Toothbrush with cover

Hand sanitizer

Camp shovel 

First aid kit

Glasses or spare contacts if needed

Biodegradable soap

Bug repellent 

Small quick dry towel

Repair kit

Camera (plus extra memory cards and batteries)

Credit card and a small amount of cash

What Food Should I Bring?
Bringing food items depends on your nutritional needs and length of stay. However, as a rule of thumb, always bring at least one extra day's worth of snacks and meals. Click here for ideas on what meals work well when backpacking!

You're Ready to Hit the Trails
While the checklist of what you need to do and bring for your Yosemite backpacking trip might seem daunting, the effort is more than worth the reward. And if you need a place to stay with a fireplace, shower, and a comfortable place to rest your head, Yosemite Resorts is here for you.